21 tips for a successful Keto or Low-Carb New Year's Resolution for 2021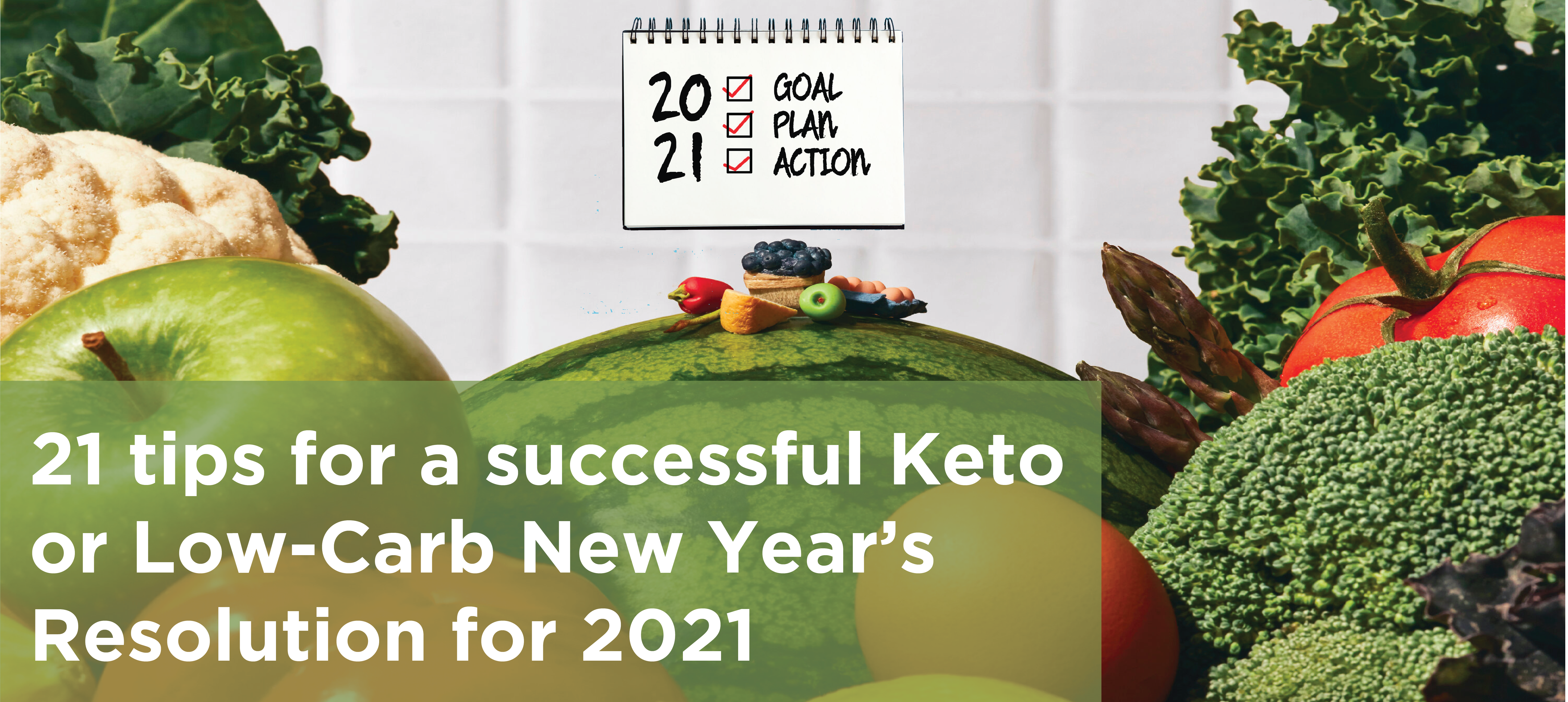 The new year is here and with it comes the tradition of making resolutions as it gives people something to look forward to. Not only do new year resolutions indicate your belief and hope in your abilities to modify lifestyle habits but it also marks the beginning of the year with a fresh start while offering an opportunity to get healthier!
Habits take time and coincidentally, it takes at least 21 days to form a habit. Here are 21 tips for everyone who's 2021 resolution is to go keto or to follow a Low-carb diet from today:
Do it right. First off, before you plan on starting a new diet, find out if it is safe and suitable for your body. Discuss with your healthcare provider and consider your underlying ailments (if any) before taking up any new diet regimen. Find out if you need to make any other changes like medication dosages, etc. before you go keto or start following a low-carb diet.

Set a goal. It definitely helps to have some goals and work towards them. It will help you stay motivated if at all you hit bumps in the road and also keep you motivated when you achieve little milestones on the way.

Let those goals be SMART (specific, measurable, attainable, relevant, and time-specific)! Setting SMART goals

Make plans. Your end goals won't magically show up! You need to make a plan and work towards it. Your plans shouldn't just be encouraging and realistic but should also allow for inevitable hurdles.

Start small- Set easy weight loss goals when you begin so that it will not only keep you motivated but it will be easier to keep up with your new resolution.

Keep track of your progress. Maintain a journal, use calendars or online tools or apps to track your progress

Reward yourselves with every tiny achievement. Self-motivation is key and therefore, it is very important to recognize every small accomplishment you make and reward yourself with something nice. This will not only get you excited about the rest of your journey but also help you stay focused.

Be ready to make small changes! Try changing your routine or making small changes to your habits if you don't seem to be hitting your goals

But do it one at a time. Change one behavior at a time and do not get overwhelmed or think that you have to reassess things. Just work towards changing one thing at a time as it really takes some time to replace unhealthy behaviors with healthy ones.

Set reminders or simply write it down! Every time you think you are going off the track, help yourself by writing down your resolutions and hanging them up in places wherever you can remind yourself every day of your goals.

Find out as many keto- or low-carb alternatives that are delicious. Not only will that make your journey interesting but will also help curb your carb cravings.

Invest in a keto cookbook or a low carb meal plan. They are certainly worth it and will help you stick to the diet while making the process more interesting.

Think of it as a lifestyle change or a healthy mission rather than as a diet. This will help you stick to your plans until you achieve your goals.

Focus on all the delicious food options that you can indulge in rather than thinking about those that are off your diet regimen.

Fight the keto flu! Remember, it is not your body's way of rejecting the new lifestyle but is just a symptom as your body copes up with ketosis. Stay hydrated and ketone supplements to fight the carb cravings and increase energy levels as your body shifts to rely upon fats instead of carbs for fuel.

Share your progress, setbacks, and recipes with others who are on the same journey as you are. If you do not know any Keto New Year's resolutioners personally, find support groups online or join keto communities or groups on Social media.

Make it public! Let your friends, family, and colleagues know about your resolutions and goals. When you have a support system around you, you are less likely to go off-track.

Never beat yourself up! Nobody can perfect everything, after all. It is completely normal to face minor missteps while trying to reach one's goals. Simply don't give up just cos you broke the rule once. Try to resolve and recover from those setbacks and get back soon on track!

Never hesitate to ask for support or take help when you need it. Your loved ones and people who care about you are always there to listen to your issues and help you manage the stress you are going through while on your new resolution.

You can also consider seeking professional help. Experts can help offer strategies as to ways to adjust your goals to make them more attainable without getting stressed.

Finally, keep working on your goals! In just a few months, you might tend to lose that initial spark of motivation that you started your resolution with. There will be setbacks and relapses. But be a little flexible and try to learn and adapt. Do not let the setbacks you encounter make you give up on your new year's resolution. Instead, consider them as learning opportunities. Reevaluate your strategies and perhaps develop a new plan if your first approach didn't work the way you wanted it to.
Bottom line
 A low-carb lifestyle can help those who are targeting weight loss as well as for those whose goals deal with health. We at Lo! Foods hope that these tips will be useful for those who are going to start or restart their journey as a keto or low-carb New Year's Resolution.
Image courtesy: Pixabay