Bacterial Metabolism Of Dietary Soy Helps Reduce Dementia Risk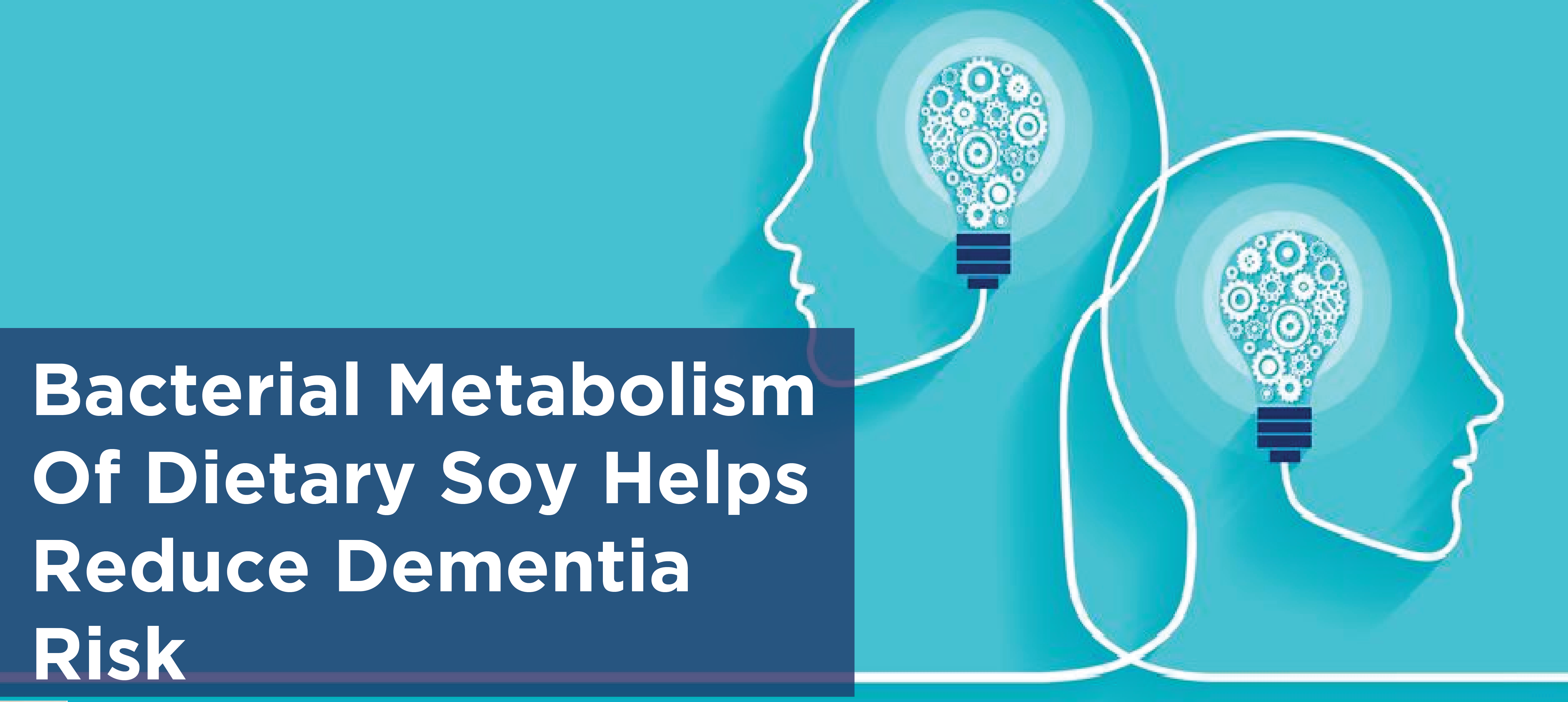 Food products with Soy when metabolized can offer enormous brain health benefits
Nearly 5 million Indians suffer from dementia. This neurodegenerative disease is currently incurable and so many people are at an increased risk of developing it. Dementia not only results in loss of memories and robs a person's personality but the condition also affects one's dignity. 
Health experts believe that one can reduce their risk of dementia by bringing about certain lifestyle changes including regular physical activity, dietary changes, stress reduction, and other strategies like prevention of vascular risk factors such as diabetes, hypertension, and by treating major depressive disorders, etc. 
But a recent study conducted at the University of Pittsburgh posits that a metabolite produced after consuming soy might help reduce an important risk factor for dementia.
According to the researchers, elderly Japanese men and women who produce a metabolite of dietary soy called "equol" created by certain types of gut bacteria display reduced levels of white matter brain lesions. 
White matter lesions located in the brain are significant risk factors for cognitive decline and neurodegenerative diseases like dementia, as well as, all-cause mortality. The researchers found 50% more white matter lesions in individuals who cannot produce this metabolite compared to others who can. This is a surprisingly huge effect and is a great finding in dementia prevention. 
Older studies have shown that soy isoflavones contain anti-atherosclerotic, anti-oxidant, as well as anti-amyloidogenic properties. They have also revealed that elderly Japanese who produced equol metabolite had significantly higher cognitive scores and a lower prevalence of mild cognitive impairment compared to those who didn't. And in the recent study, the researchers hypothesized that equol producers have significantly lower white matter lesions and amyloid-beta depositions in the brain compared to people who do not produce equol. 
Per the study, while equol production didn't appear to be impacting the levels of amyloid-beta deposited within the brain, it was linked to reduced white matter lesion volumes. The researchers also found that high levels of soy nutrients that are metabolized into equol didn't have any effect on the levels of white matter lesions or amyloid-beta when equol wasn't secreted. 
It is rather the ability to produce equol from soy the key to unlocking protective health benefits from a soy-rich diet. Since it has been already demonstrated that equol production is related to a lower risk of heart diseases, which in turn is strongly linked to cognitive decline and dementia, it now implies that equol production could help protect the aging brain and the heart. 
What are the health benefits of soy consumption? 
Soy foods are enriched with omega-3 fats and essential polyunsaturated fats. They are also a great source of other nutrients including vitamins, minerals, and antioxidants. Soy consumption has been associated with enormous health benefits including reduced risks of several ailments such as cardiovascular conditions, coronary heart disease, certain cancers, and improved bone health. Moreover, the nutrient content of soy foods has been associated with improvements in both memory and cognitive functions. Other health benefits of soy consumption include weight loss, improved digestion, better sleep quality and it also helps alleviate menopause symptoms. 
Why have clinical trials in America failed to demonstrate the link between soy consumption and dementia risk reduction?
The researchers believe that the discrepancy was due to the microbiome. A majority of Japanese people harbor gut bacteria that have the ability to convert dietary soy into equol while hardly 30% of Americans possess that. The researchers also warn people against purchasing equol supplements hoping that it might help stave off neurodegenerative conditions like dementia.  
Image courtesy: Pixabay