Low Carb Diet Reverses Brain Aging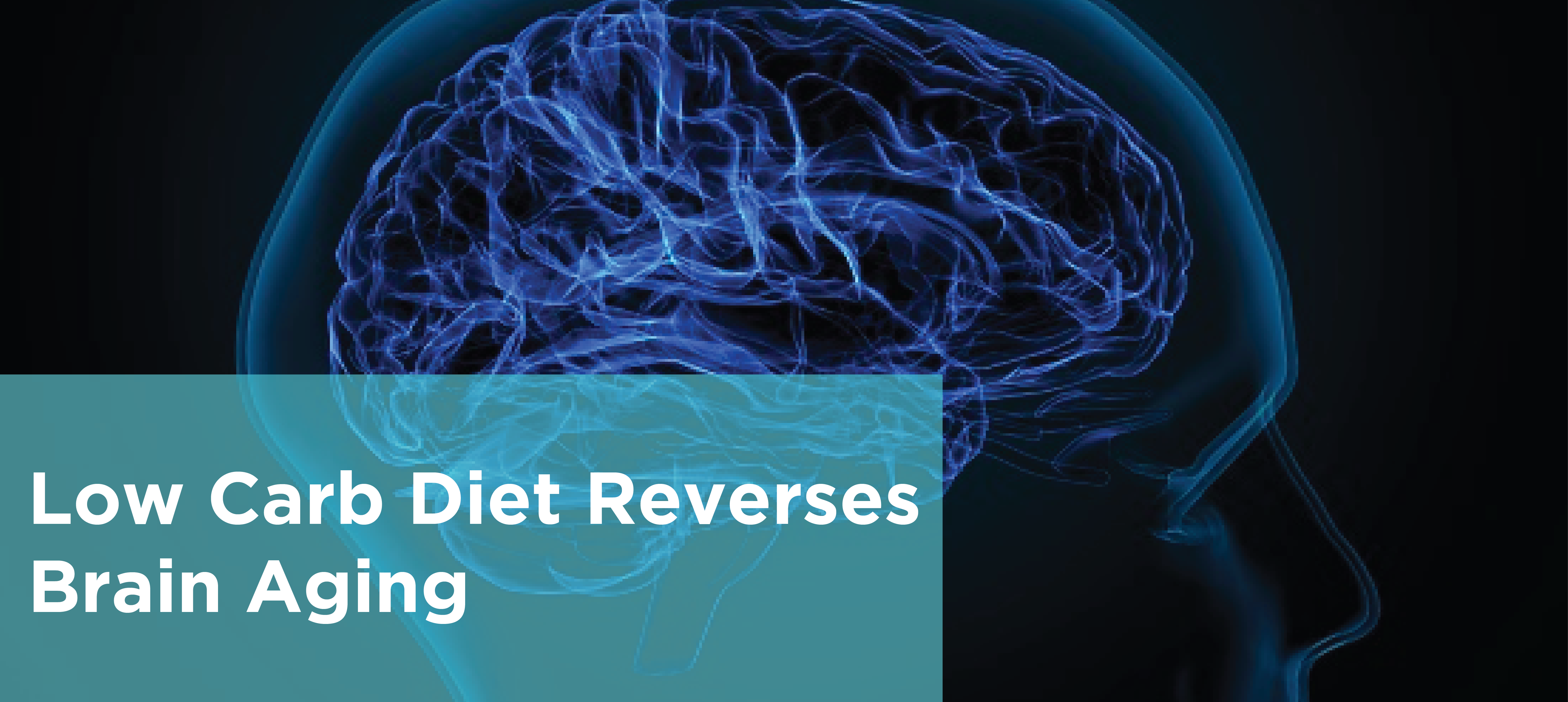 As a part of the aging process, your brain and nervous system go through a series of natural changes where these organs lose some nerve cells and go through atrophy. And as a result, the nerve cells might lose their efficiency and might begin to pass messages more slowly than in the past and the waste products might end up getting collected in the brain tissues as nerve cells degenerate. 
Your brain shrinks as you age and there are various changes from molecular to morphological levels and are responsible for the incidence of stroke, white matter lesions, memory impairment, and dementia. It could also lead to changes in the levels of neurotransmitters and hormones. 
Moreover, your brain loses its ability to metabolize glucose efficiently and as a result, this causes neurons in the brain to starve and thereby the brain networks start destabilizing. 
First signs of brain aging happen much earlier than previously thought. But the good news is that we can reverse that with diet. 
Dietary changes have been studied by several researchers to better understand how it is associated with improved brain function and mental health. Health experts believe that a healthy diet alongside regular physical activity is some of the most effective interventions for preventing, reversing, or slowing down the progression of neurodegenerative diseases. 
A recent study published this march pointed out that early signs of brain changes linked to aging get visible much earlier than usually expected, in the early 40s. The researchers hypothesized that this occurs as a result of neuron's loss of energy and suggested that this can be reversed via dietary changes. 
In recent times, the ketogenic diet has gained a lot of attention and its supporters have touted its potential health benefits in terms of weight loss, heart health, as well as brain health. And this study explored this idea further and has demonstrated that a low-carb diet could potentially reverse or at least decelerate brain aging. 
The researchers at the Stony Brook University sought to examine whether the effects of a low-carb diet could be seen in the brains of individuals who might be exhibiting certain signs of aging but were presymptomatic. 
They found that brain aging typically begins when a person is in their late 40s, i.e. around age 47 and this might be related to weaker cognition. Brain network stability was identified as a biomarker for aging and they also found that having type 2 diabetes worsened this destabilization of brain networks. They then examined how the brain's network stability responded to dietary changes. 
In the study, a group of participants adhered to a standard diet that metabolizes glucose as its primary fuel, and another group was asked to follow a low-carb diet where they ate only foods like meat or fish alongside salads. The second group did not consume any sugars, grains, or starchy vegetables and their main fuel source were ketones. 
The researchers found that the study participants who were metabolizing ketones on the low-carb diet experienced increased brain activity and stabilized networks in their brain regions. 
Even though the study found that the initial signs of brain aging happen much earlier than previously thought, the researchers pointed out that we can prevent or even reverse these effects with diet. Simply by exchanging ketones as fuel for neurons, we can prevent or reverse the destabilization of brain networks and in turn reverse neurobiological changes associated with aging. 
The power behind ketones is that the brain eventually loses its ability to use glucose as fuel and therefore if we can increase the amount of energy the brain gets by turning to a different fuel, we can restore the brain to more youthful functioning.
Moreover, ketones are being explored for their potential as a therapeutic pathway for neurodegenerative diseases like Alzheimer's. Another research conducted at the National Institute of Aging revealed that increasing the number of ketones in the body might help ward off Alzheimer's. 
Image courtesy: Pixabay