Keto Diet For Beginners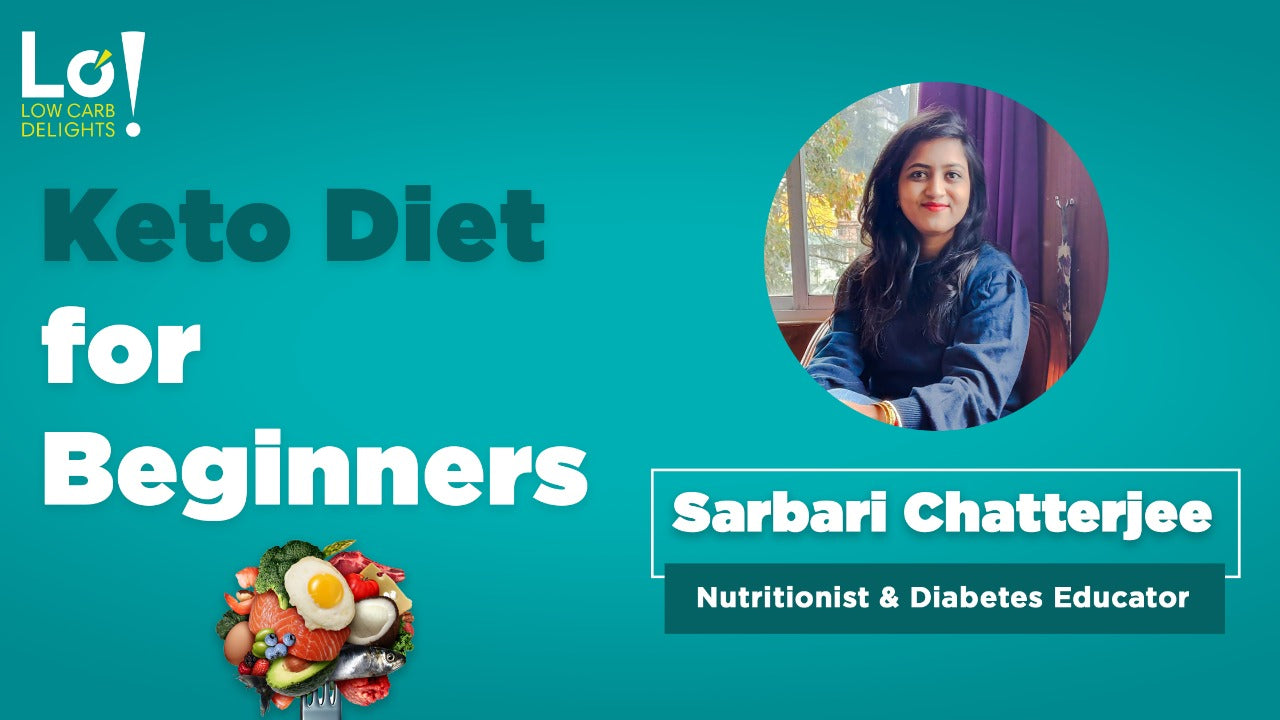 Ketogenic diet or keto diet is an eating pattern that is very low in carbohydrates, moderate in protein, and high in healthy fat that can help in losing weight easily. Nowadays, the Keto diet is one of the popular weight loss methods. Read further as Nutritionist and Diabetes educator Ms. Sarbari Chatterjee gives her tips on Keto diet for beginners.
It creates a metabolic phase (Ketosis) in which your body utilizes fats for fuel instead of carbohydrates. Here, ketones are the source of energy. It is an effective way to lose weight faster. But we have to keep in mind that this fat source should come from healthy fats and the diet should be rich in fiber.
Due to the lack of carbohydrates in the diet, your body can't make enough glucose (the primary source of energy). When your body can't get enough energy to function properly then the brain pulls the needed energy from the alternative energy source that is fat. The liver converts the fat to ketone bodies to produce energy and this energy is used for the body and brain when there is a lack of glucose.
Some Keto-Friendly foods:
Non-starchy vegetables- Broccoli, cauliflower, zucchini, celery, bell pepper, spinach, tomatoes, and mushrooms.

Healthy fats (which can increase HDL and decrease LDL) – Sesame oil, olive oil, avocado oil, soybean oil, safflower oil, and corn oil.

Full-fat milk product- Cheese (Cheddar, mozzarella cream cheese), yogurt, butter, and cream.

Avocados.

Condiments- Salt (moderate amount), pepper, vinegar, lemon juice, fresh herbs, and normal spices.

Natural butter- Peanut butter, almond butter, and cashew butter.

Protein items- Eggs, skinned out chicken, salmon, tuna, and mackerel.

Beverages- Water (As much as you can), green tea, and coffee without sugar.
Some Keto-friendly snack options:
Boiled eggs

Scrambled eggs with non-starchy vegetables

Chicken lettuce salad

Avocado stuffed with boiled chicken with medium spices

Bell pepper with stuffed minced chicken

Berries whipped cream mousse

Coconut chips

Grilled chicken with mint dipped

Chicken pizza omelet (Egg will be the pizza base)  

Stir-fried broccoli with skinned out chicken

Bacon with egg pouch

Trail mix made with almonds, cashew, unsweetened coconut, and seeds.
Foods to be avoided:
Starchy vegetables (potato, yam, sweet corn, sweet potato, etc.)

Sweetened fruits (mango, banana, and grapes)

Cereals and cereal product (Rice, bread, pasta, corn flakes, etc.)

Beans and legumes (chickpeas, black beans, lentils, green beans, and black soybean)

Hard drinks and mixed drinks

Honey and syrup

Fruit juices and soft drinks

Sweetened dried fruits or trail mix (dates, raisins, etc.)

Low fat or fat-free products (low-fat yogurt, skim milk, mayonnaise, etc.)

Fried items like chips, pakora, bhaji, etc.

Jam, jelly, candy, sweet sauce, ice-cream, etc.
About the Author:
Ms. Sarbari Chatterjee- Dietitian & Diabetes Educator is highly passionate about gaining knowledge on health, fitness & food. She has completed her graduation and master's both in Food and Nutrition. She is a diabetes educator. She holds a certificate in keto diet crash course and diploma in sports nutrition. She is working as a public health nutritionist at different NGO. She believes that any health issue comes with a prior signal to the body which we should recognise and prevent, and not venture out ignorantly in a wrong direction to be victimised by it.