Health Benefits of Berries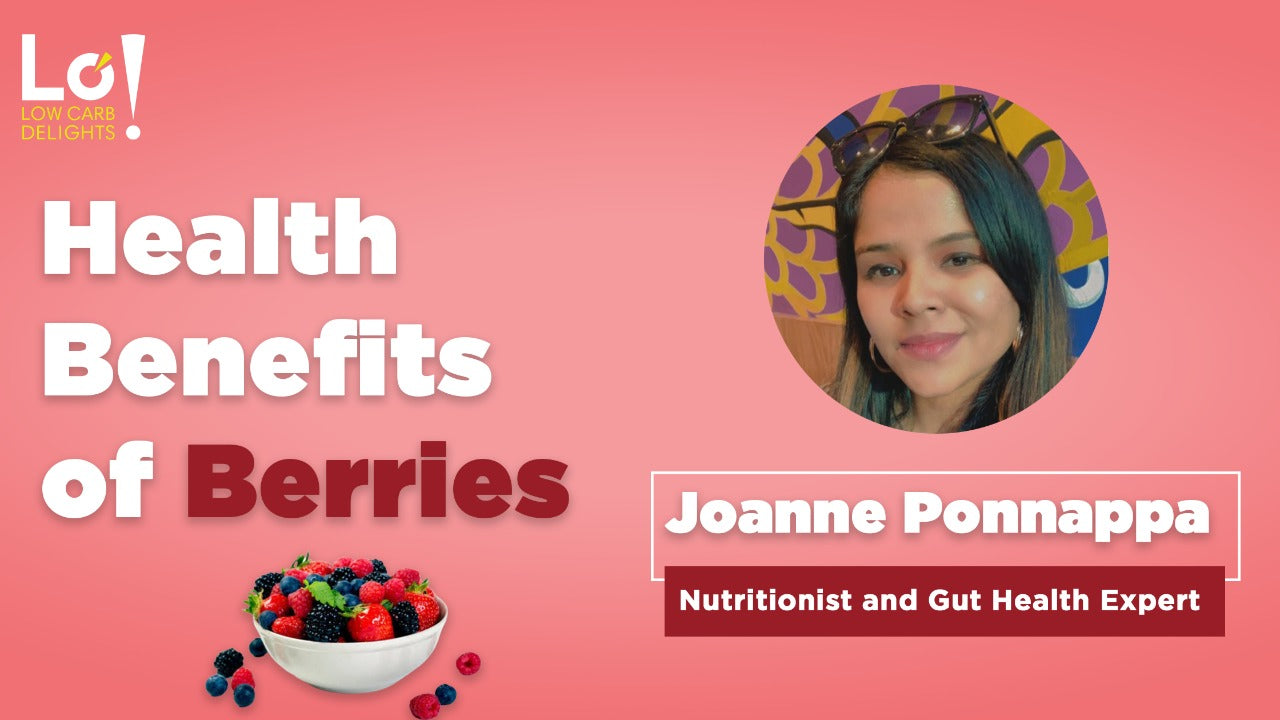 Berries are a great choice if you are watching your carb intake. While most fruits are high in carbs, berries being an exception can be a great addition to Low Carb diets like the Keto. Continue reading as Nutritionist Ms. Joanne Ponnappa explains the health benefits of adding berries to your Low Carb diet. 
Strawberries: Strawberries are a rich source of vitamin C, fiber, and antioxidants known as polyphenols that protect the heart and maintain blood sugar levels. Strawberries have strong anti-inflammatory properties. 
Cranberries: Cranberries are rich in Vitamin C; which is a predominant antioxidant. They are rich in vitamin E; An essential fat-soluble antioxidant. Rich in Manganese which is essential for growth, metabolism, and function of the antioxidant system in our body. One of the major use of cranberries is that They help prevent the bacteria from attaching to the lining of the bladder and urinary tract; hence preventing UTIs (Urinary tract infections).
Raspberries;  An excellent source of vitamin C, a water-soluble nutrient essential for better immunity and iron absorption Raspberries also contain Vitamin A, thiamine, riboflavin, vitamin B6, calcium, and zinc. 
Blueberries: Blueberries are rich in vitamin c which helps build immunity, they are also rich in Vitamin K which helps the body to clot blood when an injury occurs. They contain a good amount of fiber which helps the digestive system. 
Blackberries: Studies claim that consuming blackberries are good for memory; they are rich in anti-oxidants and help fight against free radicals. Like other berries, they are also rich in Vitamin C, manganese, and vitamin K. 
Who can consume berries: Berries are small but power-packed food. I always recommend a daily intake of berries to my family, friends, and clients. They are the perfect combination of Nutrient-dense, low-calorie food which makes them great for snacks for kids, for building immunity, people having diabetes, high cholesterol, cancer, or anybody with an immunocompromised system. 
How can you consume them: Berries can be consumed just like that or in a smoothie, or with cereal, or in a salad Or you can cook them. They're delicious and healthy. Go ahead add them to your daily diet. 
About the Author
Joanne Ponnappa, M.Sc in Food Science and Nutrition, is a Nutritionist and Gut Health expert. She's currently working as a Nutritionist for a health app and aspires to help more people at Createdbeautiful.co- her start-up where she caters to the needs of clients and helps them live healthier lifestyles.