7 Superfoods For Diabetes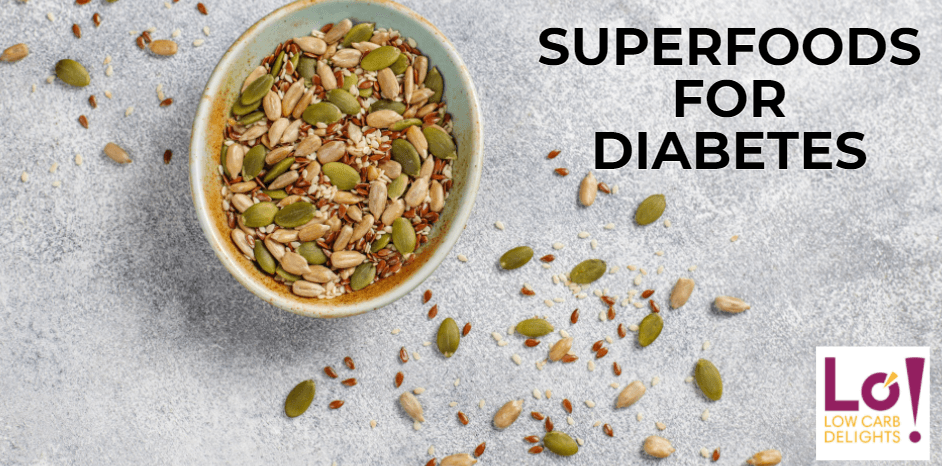 As nutritional powerhouses, nutrient-dense, antioxidant-rich superfoods have numerous health benefits ranging from disease prevention to improvements in health parameters. With diabetes being more than just a blood sugar issue, it is essential that diabetics consume a healthy diet that emphasizes good portions of foods that are nutrient-dense. Continue reading to learn about some amazing superfoods that highly benefit people with diabetes.
1. Flax seeds: 
One of the best beneficial and nutritious addition to the diabetic diet due to its ability to lower blood sugar levels. Flax is an excellent source of insoluble fiber, omega-3 fatty acid alpha-linolenic acid (ALA), and the best part: their carb content mostly consists of fiber. Flax seeds also have a significant amount f dietary protein- similar to that of soybean. Thanks to such a high-fiber, high-protein profile, flax seeds is considered a low glycemic food that helps prevent blood sugar spikes and promote blood sugar control. Their soluble fiber content also helps decelerate digestion and decrease the absorption of sugar. A 2011  study found that consuming 10 grams of flax powder daily helped reduce fasting blood sugar levels by around 20%. The same blood sugar reducing ability was also proved among people with prediabetes in another study. 
2. Sunflower Seeds:
Packed with nutrients such as Vitamin-E, B-1, Copper, antioxidants, dietary protein, and fiber, sunflower seeds are known to control blood sugar levels.  Being great sources of magnesium- which is vital for metabolism and other health benefits, these crunchy seeds are also helpful in diabetes prevention and management. A 2016 study found that apart from regulating blood glucose levels, sunflower seeds also helped lower bad cholesterol levels and improve "good" HDL cholesterol levels.   
3. Melon Seeds:
One of the most delicious ways to control blood sugar levels is munching on watermelon seeds. Not only are they associated with better blood sugar control but are also linked to reduced insulin resistance. The presence of magnesium in these seeds help manage insulin sensitivity and control your blood sugar levels. Melon seeds are also great sources of proteins like albumin and globulin that helps improve immunity and fight infections. And thanks to its monosaturated and polyunsaturated fatty acids, melon seeds help reduce bad cholesterol levels.
4. Pumpkin Seeds:
Being excellent sources of dietary fiber, pumpkin seeds are linked to lower risks of diabetes and better blood sugar control. Also, pumpkin seeds are rich in omega-3 and omega-6 fatty acids providing healthy fats. These healthy fats are known to help prevent diabetes and heart conditions. A 2014 study has demonstrated the hypoglycemic effect of pumpkin seeds in controlling the glycemic levels in diabetes mellitus. Per the study, the bioactive ingredients of pumpkin seeds possess hypoglycemic properties. 
5. Fenugreek (methi seeds):
The aromatic plant has enormous health benefits and has been used in ayurvedic and traditional chinese medicine. Being great source of soluble fibre, fenugreek helps minimize blood sugar levels by decelerating digestion and absorption of carbs. This is also indicative of the fact that methi is effective in treating people with diabetes and prediabetes. According to a few clinical trials, it was demonstrated that fenugreek seeds helped improve metabolic symptoms related to diabetes. The researchers explain that methi seeds not only helped reduce blood glucose levels but also helped improve glucose tolerance. A 2017 study demonstrated that a simple complementary addition of methi seeds had a synergistic effect on fastic blood glucose levels as well as, the HbA1C levels within 6 months of treatment. 
6. Oats:
Oatmeal is one of the best go-to-food for people with diabetes given its enormous health benefits and high-fiber profile. With a low glycemic index and just about 30 gms of carbs per cup, it perfectly suits the diabetic meal plan. All thanks to its moderate to high-fiber content and low GI, it aids in blood sugar regulation. ANd its soluble fiber content helps lower cholesterol too. Not only does it helps regulate digestion but it also keeps you feel full longer- which in turn fosters weight management. A 2015 study posits that oats significantly cut down the acute postprandial glucose and insulin responses in type 2 diabetes patients.  
7. Quinoa: 
Dietary fiber and protein being considered important for controlling blood sugar levels, quinoa can highly benefit people wih diabetes. With a glycemic index of just 53, quinoa is a superfood that is extremely beneficial for diabetes. Not only does it contain all the essential amino acids that make it a complete protein, but it is also high in dietary fiber compared to other grains. A 2009 study found that quinoa helped manage type 2 diabetes and the high blood pressure linked to it. 
Lo! Foods' new Sugar Smart Range has incorporated all of the above amazing superfoods that are beneficial for people with diabetes. From ATTA to namkeen, cookies and sugar-free dessert mix, we have an enticing range of diabetic-friendly products powered by superfoods.