Keto Diet Meal Plans: How To Follow A Keto Lifestyle For Non-Vegetarians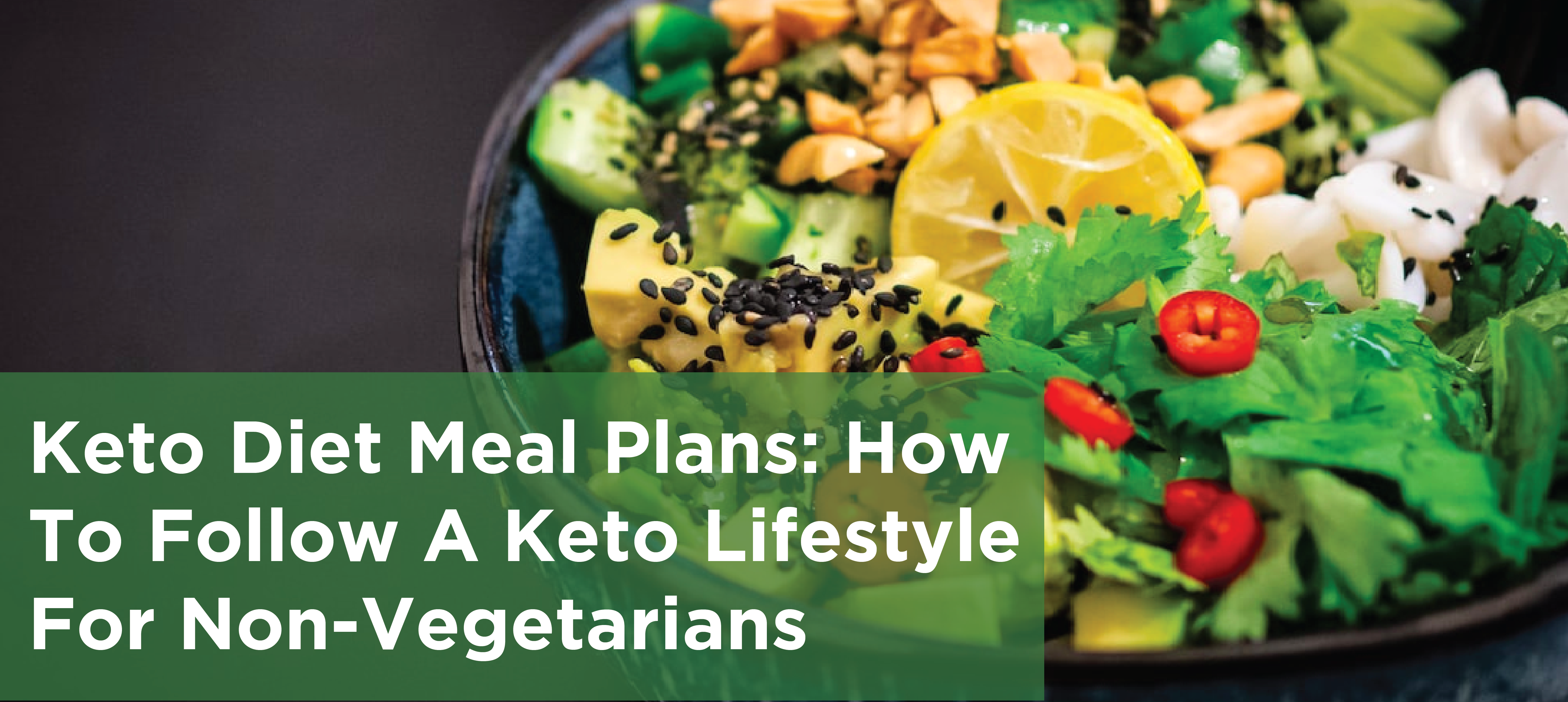 With the keto diet becoming popular, more and more people are looking at it as a means of weight loss or as a way to maintain their healthy lifestyle. But with so much information out there, it can be difficult to distinguish between myths and facts. What you might be missing are some great, low-carbohydrate high-fat meal plans and ideas.
There are many non-veg foods that one can eat while maintaining keto diet. This article will give you all the information about it and help you understand how to follow the Keto diet if you are a non-vegetarian.
How to follow a Ketogenic Diet Non-Veg
If you want to follow a ketogenic diet as a non-vegetarian, there are some things you need to keep in mind. 
Presence of protein
You'll need to make sure that you're getting enough protein. This can be tricky on a keto diet, as many high-protein foods are also high in carbs. However, there are plenty of low-carb protein sources that you can be included in your keto meals, such as eggs, meat, and fish.
Healthy fats
This is one of the most important aspects of the keto diet, and healthy fats will help you feel satiated and energized. Healthy fats include olive oil, fatty fish, avocado oil, and coconut oil, among others.
Carbohydrates
You should watch your carb intake. Keto meals aim for less than 50 grams of carbs per day. This may seem like a lot at first, but there are plenty of low-carb vegetables that you can eat to reach this goal. Focus on including nutrient-dense foods in your diet and reducing or eliminating processed carbohydrates.
Hydration
Don't forget to stay hydrated by drinking plenty of water throughout the day. It's also important to limit your alcohol intake on a keto diet, as alcohol can quickly kick you out of ketosis. If you do drink alcohol, opt for low-carb options like vodka or tequila.
Finally, make sure you're getting enough sleep and managing stress levels. Both of these can impact your ability to stick to a keto diet in the long term.
Pros and cons of the non-vegetarian Keto diet
If you want to go on a keto diet, but don't want to give up meat, there are options for you. A non-vegetarian keto diet can be a healthy and delicious way to eat. Here are some of the pros and cons of following a non-vegetarian keto diet.
Pros
You can still get all the nutrients you need on a non-vegetarian keto diet. Meat is a good

source

of protein, iron, and other essential nutrients.
You'll likely lose weight on a non-vegetarian keto diet. Cutting out carbs and eating more fat can help you shed pounds.
Non-vegetarian keto meals can be flexible. You can choose from a variety of meats, seafood, and poultry options when planning your meals.
Cons
A non-vegetarian keto diet may be higher in saturated fat than other diets. Too much

saturated fat

can increase your cholesterol levels.
You may miss out on some key nutrients if you eliminate all plant food sources from your diet. Vegetables and fruits are good

sources

of fibre, vitamins, and minerals. So include them daily as well.
Recipes for non-vegetarians
Whether you're a die-hard carnivore or simply trying to mix things up, we've got some delicious keto diet recipes for you! These hearty meals will keep you satisfied and help you stick to your low-carb, high-fat ketogenic lifestyle.
You can substitute authentic Indian Atta with Lo! keto-friendly atta to make homemade bread or rotis. If you're in the mood for snacking, you can also swap out the traditional biscuits for keto cookies and Indian munchies for keto namkeens.
If you're in the mood for something a little different, you can try Thai-style chicken curry. This dish is packed with flavour, thanks to red curry paste, coconut milk, ginger, and cilantro. Serve it over cauliflower rice for a complete meal that's sure to please.
For something hassle-free, you can opt for lo keto meal subscription. With so many options available, you'll never get bored with ordering.
Alternatives to the Keto Diet
If you're not a fan of the keto diet or you're simply looking for some alternatives, there are plenty of other diets out there that can help you achieve your desired results. Some popular alternatives to the keto diet include the Atkins diet, South Beach diet, Paleo diet, and more. Each of these diets has its own unique approach to weight loss and overall health, so be sure to do your research before choosing one that's right for you.
The bottom line
Following the keto diet as a non-vegetarian can be daunting, but it doesn't have to be. With careful menu planning and a willingness to try new things, you can easily stick to this healthy way of eating. The key is to focus on getting plenty of good-quality fat and protein while keeping your carbohydrate intake low. By following these tips, you'll be well on your way to enjoying all the benefits that the keto diet offers. 
References
https://www.healthkart.com/connect/best-vegetarian-and-non-vegetarian-high-protein-low-calorie-foods/#:~:text=Seafood%20is%20counted%20amongst%20great,good%20for%20the%20human%20heart.
https://www.redcrossblood.org/donate-blood/blood-donation-process/before-during-after/iron-blood-donation/iron-rich-foods.html#:~:text=Iron%20Rich%20Foods&text=Heme%20iron%20is%20found%20in,than%20eating%20non%2Dheme%20iron.
https://www.health.harvard.edu/staying-healthy/should-you-try-the-keto-diet#:~:text=Top%20of%20the%20list%3A%20it's,also%20linked%20to%20heart%20disease.
https://www.mdanderson.org/publications/focused-on-health/5-benefits-of-a-plant-based-diet.h20-1592991.html#:~:text=Plants%20are%20high%20in%20fiber.&text=Eating%20a%20plant%2Dbased%20diet,great%20for%20good%20bowel%20management.