Keto Diet Food List: What to Eat and Avoid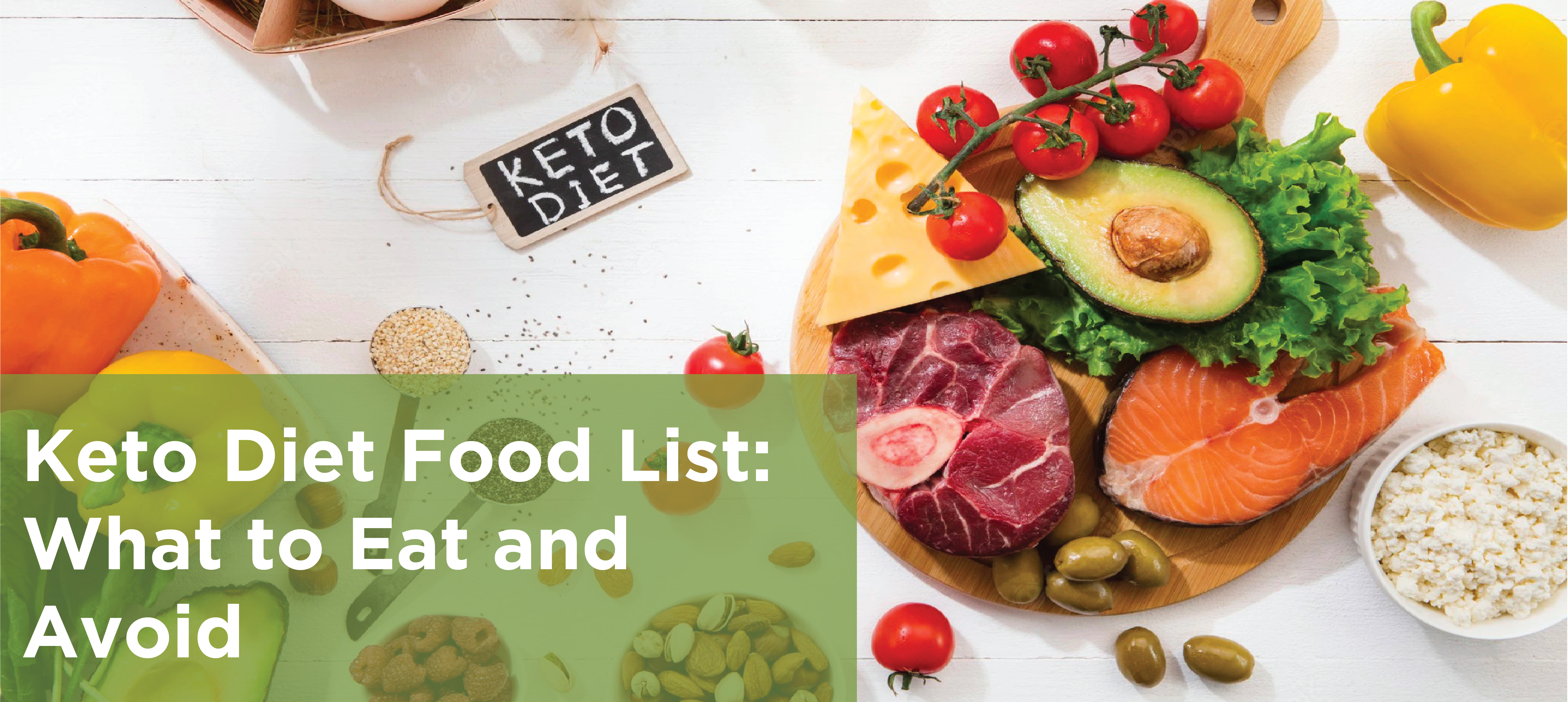 One of the most well-known and possibly most dependable diets to help people lose weight is the ketogenic diet. Keto continues to be one of the top talking points when it comes to dieting and nutrition, thanks to celebrities who attest to its success and the numerous health benefits it offers, in addition to weight loss. So what exactly is this diet about? 
The low-carb, high-fat ketogenic diet, or keto diet for short, has many health advantages. In fact, a number of studies indicate that keto foods can aid in weight loss and health improvement. It requires significantly lowering carbohydrate intake and substituting fat for it. This carbohydrate restriction sends your body into a metabolic state known as ketosis. This causes your body to become extremely efficient at consuming fat for energy. It also converts fat to ketones in the liver, which can provide energy to the brain. 
Before you start the keto diet, it's crucial to understand what counts as keto meals and what doesn't, as well as whether you're a fine fit for the diet. So, on a keto diet, what precisely can you eat? In a nutshell, eat a lot of fatty meals. 
Fat, the main character (70-80% of calories)
The majority of your intake is made up of fat. Yes, it has a terrible reputation, yet it is an important macronutrient that serves as a fuel source for cell membrane construction, vitamin and mineral absorption, and other biological processes.  
Oil such as olive oil, avocado oil

Fruits like olives, avocados

Natural seeds like flax seeds and chia seeds

Nuts, including almonds, walnuts, etc

Natural, no-sugar-added nut butter
Avoid processed polyunsaturated fats and trans fats and try to stick to saturated and monounsaturated fat sources.
Protein, the middleman (10-20% of daily calories)
Protein is necessary to create muscular tissue and burn calories. As a result, if you consume too much fat while having keto foods (and too little protein), your body will start using muscle tissue as fuel. This will consequently reduce your total muscle mass and the number of calories you burn while at rest. Protein foods which can be easily included in your keto diet are :
Chicken, dark meat if possible

Beef

Fishes like tuna, salmon, sardines, etc. 

Eggs

Unsweetened, Greek yoghurt

Whole milk cottage cheese

Soybean

Pulses and grains
When it comes to dairy products, paneer, white butter, and high-fat cream are all excellent choices to consider as keto foods.
Last and the least to be consumed - carbohydrates (5-10% of daily calories)
Again, limiting your carbohydrate intake is the hardest (but most crucial!) element of the keto diet. Good source of carbs in keto meals includes : 
Broccoli

Cauliflower

Spinach

Tomatoes

Eggplant

Green Beans

Cucumber

Bell peppers
Avoid consuming a lot of high-starch vegetables, which can cause you to lose your ketosis. Keto is a low-carb diet, thus experts advise people to consume salt and drink plenty of water throughout the day to stay hydrated.
The acting villains to your keto diet
For today's generation, the list of foods to avoid while on Keto can be disheartening. But it's not hard to get used to them. Generally speaking, everything that can raise your carb intake is on the list of foods to stay away from. These includes : 
Refined sugar and artificial sweeteners 

Highly processed food

Carbonated drinks

Cakes and pastries

Rice

Potatoes

Starch

Refined flour

Fruits with high sugar content 
The bottom line
Although many people don't think of the ketogenic diet as a long-term, sustainable one, you can make sure it works for you by being cautious and constantly using moderation. Drink enough water, and consume enough fat and protein, as needed. While the keto diet attempts to reduce binge eating, it's still important to eat mindfully.
Always be mindful of your caloric intake. Even if you choose to purchase premade keto dishes or meals, always read the ingredient list to ensure that the product is indeed keto-friendly and is not overly processed. Finally, speak with a nutritionist or dietician who will carefully guide you through your keto journey. If you want to make your Keto journey easier and stress-free, consider the Keto meal subscription from Lo! Foods where you can get delicious Keto Indian meals that are curated by nutritionists, keeping in mind the daily macro and micronutrient requirements.
References: 
https://www.healthline.com/nutrition/ketogenic-diet-foods
https://www.eatingwell.com/article/291245/complete-keto-diet-food-list-what-you-can-and-cannot-eat-if-youre-on-a-ketogenic-diet/
https://www.google.com/amp/s/www.bbcgoodfood.com/howto/guide/foods-to-try-on-a-keto-diet/amp#scso=_u10gY7mhL7WKseMP3dWgoAw_105:0