Desi Quesadillas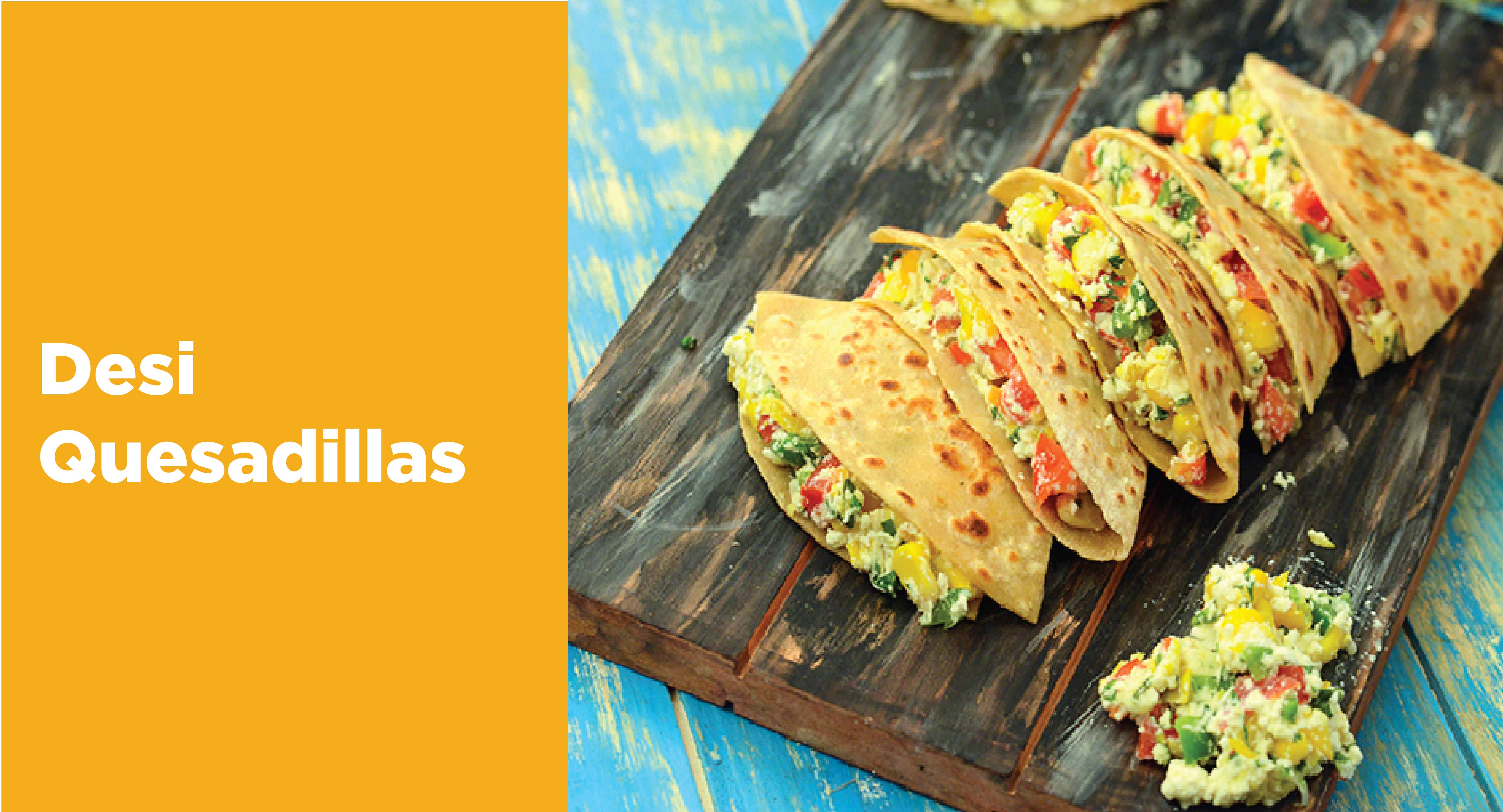 A typical quesadilla- the Mexican dish and type of sandwich comprises of a flat round bread made of cornmeal or flour and filled with cheese, meats & spices and then cooked on a griddle. But our Desi low-carb Quesadilla is close to a doppelganger of the popular Mexican dish but reimagined with Indian low-carb ingredients.
These desi low-carb quesadillas are very easy to make and hardly takes 10 minutes to prepare. They are a perfect tea-time snack and can also be enjoyed any time snack cravings strike while you're on a keto or a low-carb diet.
Recipe by:  Ms. Rozelle D'souza
Recipe Link : https://www.instagram.com/tv/CH8M1e5Jnnz/
Ingredients
For the tortillas:
Low carb atta

Cooking oil

Water

Salt
For the filling:
Garlic

Onion

Capsicum & bell peppers

Boiled chicken

Grated cheese

Pizza/pasta sauce

salt
Method:
Dough preparation:
Take low-carb atta in a bowl, add a few spoons of cooking oil, salt to taste, and sprinkle some water and knead well into a soft dough.
Make the tortillas:
Using the soft low-carb atta dough, make round and thin tortillas and set them aside.
Preparing the filling:
Grate the garlic and cheese, and chop veggies like onion, capsicum, red and yellow bell peppers, and set them aside. Then boil some chicken, shred it and keep it aside.
In a cooking pan, add some oil, and start adding grated garlic, chopped onions, and other chopped vegetables one by one and saute well. Add salt to taste, and add some pasta sauce alongside the shredded chicken and cook well.
Then add the grated cheese and saute them together for a minute. The filling is now done, set them aside.
Roast the tortillas
In a griddle, roast the tortillas using some cooking oil or butter.
Assemble the quesadillas
Now stuff the filling generously inside the roasted tortillas and fold them and cook for a few seconds on a griddle.
Desi low-carb quesadillas are now ready to be enjoyed!