7 Quick Low Carb Snack Ideas For People With Diabetes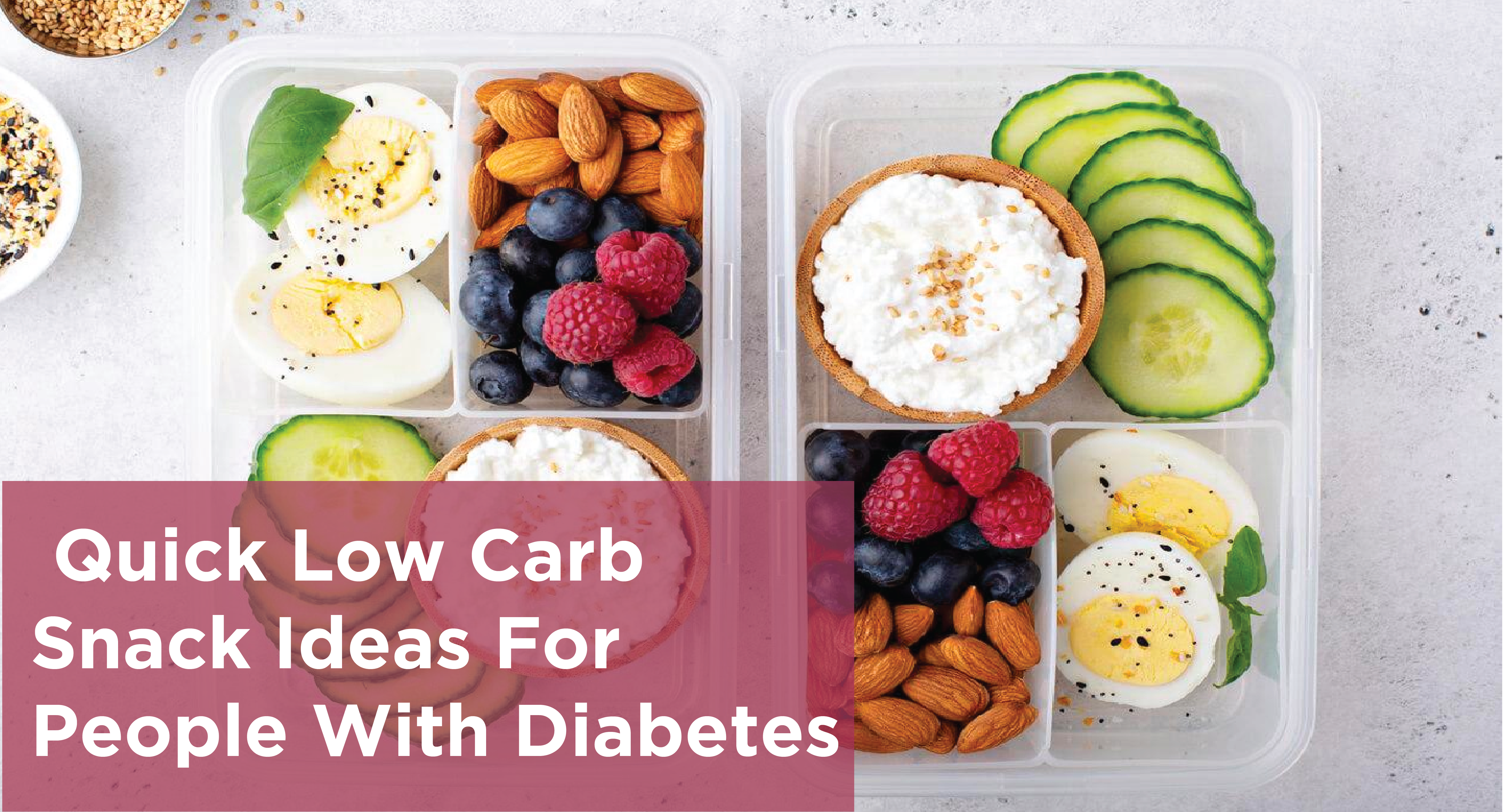 Snacking healthy is very important especially when you are diagnosed with diabetes. The key to picking the right snacks is to choose those that are high in protein, Fiber and healthy fats as they will help keep your blood sugar levels in check.
Here are some quick diabetes-friendly snacking ideas:
A handful of Nuts: Nuts like almonds are extremely nutritious and easy to snack on. For example each serving of almonds have over 15 kinds of health-boosting vitamins and minerals. Moreover, research has shown that almonds help control blood sugar levels in diabetics. Almonds have also been shown to descrease insulin levels and benefit heart health by fostering weight loss and controlling blood cholesterol levels. 
Avocados: people with diabetes can eat avocado on its own or make it into a dip to reap its enormous health benefits. Thanks to avocado's high Fiber content and monounsaturated fatty acids, they help prevent post-meal blood sugar spikes. 
Apple slices with Unsweetened Peanut Butter: Pair apple slices with the unsweetened peanut butter to make one relish and healthy diabetic-friendly snack. Given how nutrient-rich apples are and the amazing nutrient-rich of peanut butter, this makes one of the best snack ideas for people with diabetes. The polyphenol antioxidants in apple help protect your pancreas cells from damage. 
Roasted chickpeas: This incredibly healthy legume is an excellent snack idea for people with diabetes. Studies have pointed out that eating chickpeas regularly helped prevent diabetes progression. Roasting chickpeas is one way to make this incredible food easy to snack. Plus they also taste great when you add your fave seasonings
Trail mixes: An amazing diabetic-friendly snack made by combining healthful nuts, and seeds. Each ounce of trail mix has almost 4 grams of protein, making it a great snack idea that promotes blood sugar control in diabetics. Trail mix is also a great source of dietary fiber and healthy fats making it a perfect low carb, low GI diabetic-friendly snack idea.
Hard-boiled eggs: Did you know that an egg has a little less than 1 g carbohydrate and only 70 calories? In fact, research shows that people who consumed hard-boiled eggs had no blood sugar spikes and also had more stable blood sugar levels. 
Popcorn: Yes, the king of comfort foods is perfectly diabetic-friendly. Thanks to its high-fiber, low carb, low-calorie content, the crunchy snack not only keeps you satiated but also tantalizes your taste buds. Pick low-fat varieties of popcorn that can be microwaved or air-popped, whenever you crave a snack.