5 Best Flour Options For Diabetes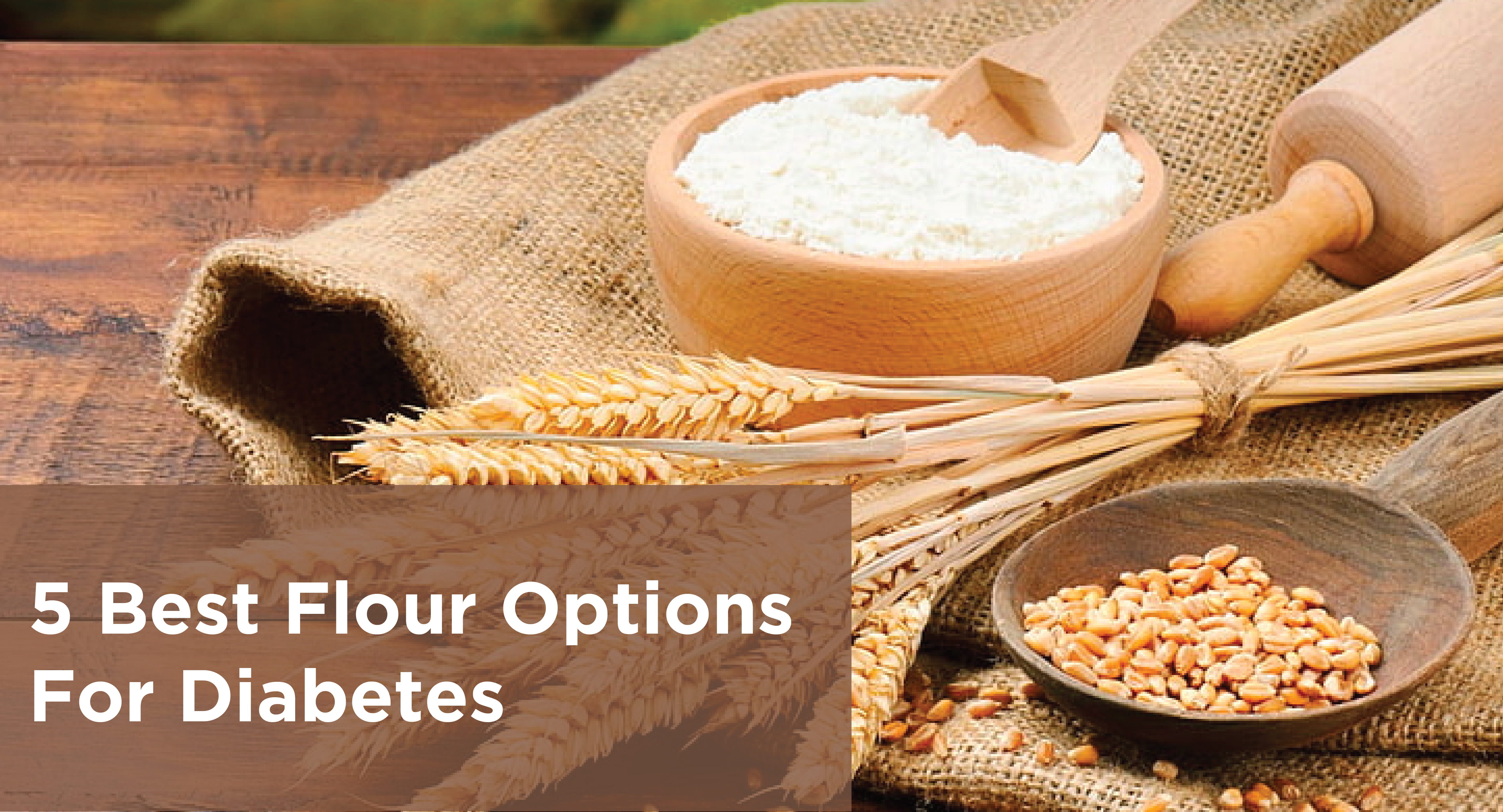 If you are someone fighting diabetes, it can get quite challenging to find healthy recipes that are low in Carbs and Glycemic Index. One of the best ways to give your favorite dishes a healthy diabetic-friendly twist would be to modify recipes by swapping out ingredients especially ones like multipurpose flour. 
Fortunately, we have a lot of interesting flour options that are perfect for people with diabetes. 
1. Almond flour
Made from finely ground almonds, almond flour makes one of the best gluten-free diabetic-friendly flour options. Not only is it low in Carbs and high in protein and fiber but also is enriched with heart-healthy fats and has a Low glycemic index compared to other. You will love the mild nutty flavor and its amazing versatility given how it can be subbed for other flours in several recipes including bread, cookies, muffins, etc. To give your favorite recipes a healthy diabetic-friendly twist, swap all-purpose flour with Almond flour. 
2. Coconut flour
Indians have a long-lasting love for the humble coconut and its deliciousness. But what many aren't aware of is the fact that the flour made from the coconut meat is extremely low in carbs and enormous in dietary fiber, making it a perfect diabetic-friendly flour option. Given its natural sweetness, it can be swapped in a wide variety of recipes including cakes, cookies, brownies, etc. FOr each cup of regular flour, substitute ¼ cup of coconut flour to make your favorite foods diabetic-friendly. 
3. Oats flour
The popular whole grain flour obtained from grinding rolled oats is an excellent source of dietary fiber and protein. It is also enriched with beta-glucan that has been proven to lower blood sugar levels in people with diabetes. Substitute about 1 ⅓ cups of oat flour for each cup of regular flour in cooking and baking recipes that call for all-purpose flour such as cookies, muffins, pancakes, etc. 
4. Chickpea flour:
Rich in dietary fiber, chickpea flour helps control blood cholesterol levels and aids in the slow absorption of sugar into your bloodstream. Prevents unwanted sugar spikes in people who are diabetic. And thanks to its high protein content, it also helps prevent insulin resistance- a condition that impairs blood sugar regulation. Given how chickpea flour has a rich, nutty flavor, you can substitute it for regular flour in both sweet as well as savory recipes like pancakes, cookies, fritters, and flatbreads. 
5. Quinoa Flour: 
The high dietary fiber content of quinoa compared to other grains makes its flour to be particularly beneficial for people with diabetes. Since fiber and protein are crucial to keeping blood sugar under control, quinoa flour can be great for people with diabetes and prediabetes. Studies have also pointed out that quinoa flour helps manage type 2 diabetes and the high blood pressure associated with it.
About Lo! Sugar Smart Atta
Born out of an irresistible knead to healthify the diabetic capital of the world, our new Sugarsmart Atta came into fruition after countless hours of intensive research and unique Low Carb formulation. Our in-house nutritionist and her team have picked the best of Low Carb, Low GI, and superfood ingredients in this unique formulation of diabetic-friendly Atta. From superfoods seeds mix, chickpea flour, and oats flour, to quinoa flour, methi seeds powder, and more, the ingredients are all proven diabetic-friendly flour alternatives that can help people with diabetes and prediabetes control their blood sugar levels effectively.